The best holiday newborn photography props are essential for creating magical Christmas sessions for your newborn baby clients.
There's nothing quite like celebrating the birth of a new baby during the Christmas season. During the couple of months leading up to the holiday season, get your studio ready to photograph clients in full Christmas mode for birth announcements and holiday cards as well as general newborn sessions. I'm sharing 12 of the best holiday newborn photography props to help you create classic, timeless images of your newborn clients that parents will look back on fondly for many holiday seasons to come.
Please note: Many of these items are handmade by individuals or small teams running their own Etsy shops. Some items will ship within a few days while other items are made to order and may not arrive for 2-3 weeks. Please check the shipping estimates on individual listings, so you can plan accordingly for your newborn holiday shoots.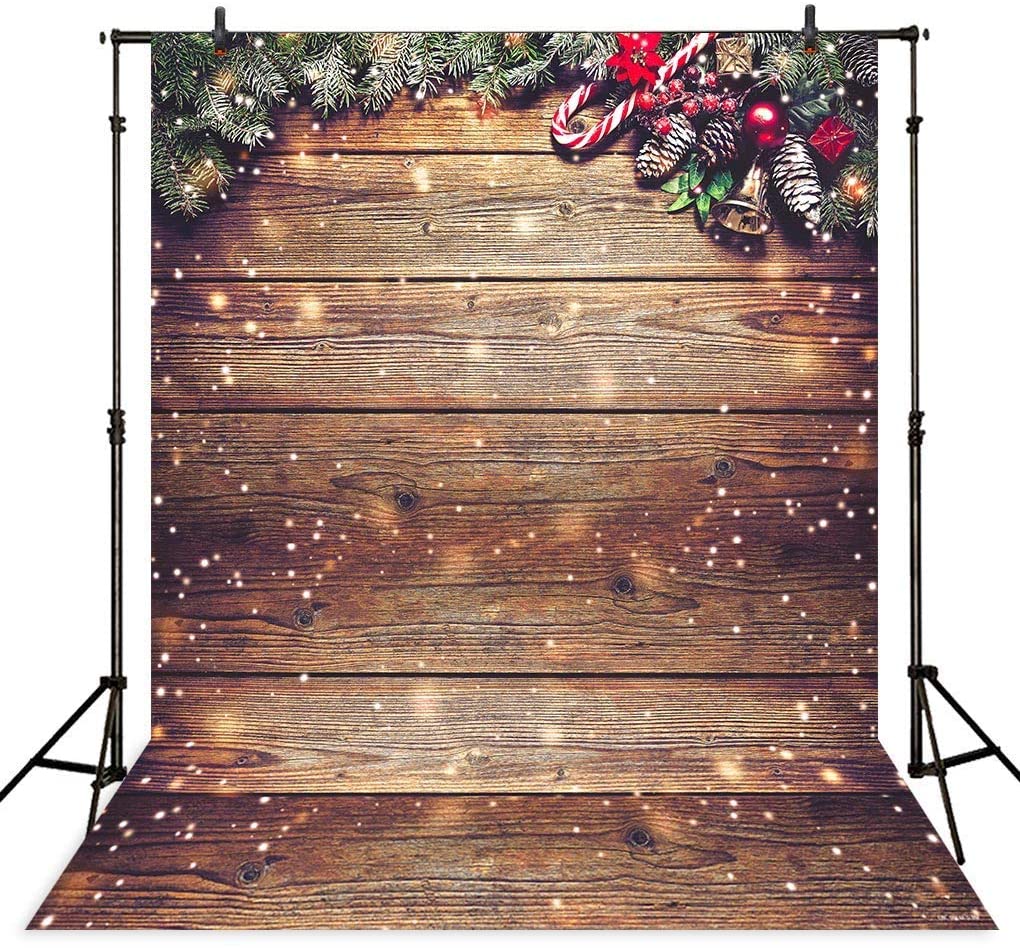 1. Holiday backdrop
There are an overwhelming number of holiday photo backdrops available. Unless you have dozens and dozens of newborn and young child holiday shoots every year and want lots of backdrops to choose from, a half dozen small-scale (5′ x 7′ or smaller) holiday-themed backdrops is sufficient. I'm highlighting a medium wood snowflake gold glitter vinyl backdrop as my top pick for newborn holiday shoots. The aesthetic is so versatile for shooting both boys and girls during the holiday season.
If you're looking for additional holiday backdrop options, my personal recommendation on Etsy is InkandElm. Their products are high-quality, they have an amazing selection, and they offer almost every backdrop in an extensive range of sizes. I also absolutely love BubblegumBackdrops for newborn and kid backdrop options. They have so many fun designs that make for adorable shoots with little ones.
Note: A lot of Etsy sellers offer digital photo backdrops. If you see backdrop listings for under $5, most likely they're digital products. It's totally fine to use digital backdrops if they work for you and your clients. Just make sure you always double-check backdrop listings, so you know exactly what you're purchasing.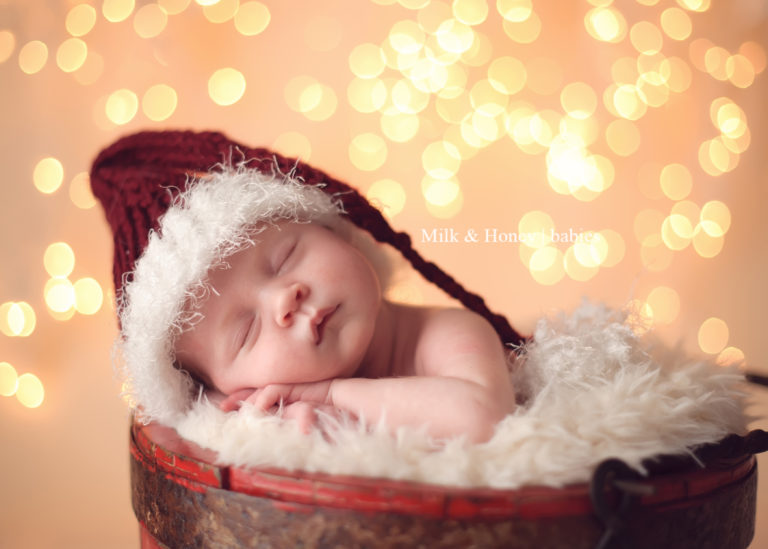 2. Holiday lights
I'm always a sucker for bokeh and love the effect of blurred red and white or colored holiday lights in the background of a Christmas shoot. This effect is perfect for newborn photography. Position your lights right against your backdrop. Then make sure the basket, bed, or other prop you're using to pose the baby is positioned far enough in front of it that the holiday lights will blur. Lisa at The Milky Way has a little holiday lights bokeh tutorial with more details about this effect.
You can also wrap holiday lights around a basket or bed or simply drape them around the area where you'll be photographing the baby to provide a framing element.
3. Berry sprigs
Red holly berry stems add a festive touch to any newborn Christmas shoot. I love a few sprigs on their own against a sparse backdrop for a simple composition or as one of multiple elements in a more detailed composition.
4. Holiday wreath
A decorated holiday wreath provides a sweet Christmas framing element for a newborn. Always line a Christmas wreath with a thicker blanket or wrap and double-check that there are no stray twigs or other sharp edges that will be anywhere near the baby. When you're using a decorated wreath, such as one of the wreaths that I've linked below, pair it with a neutral backdrop and neutral blanket with small or subtle patterns, so the newborn doesn't get lost in all the color.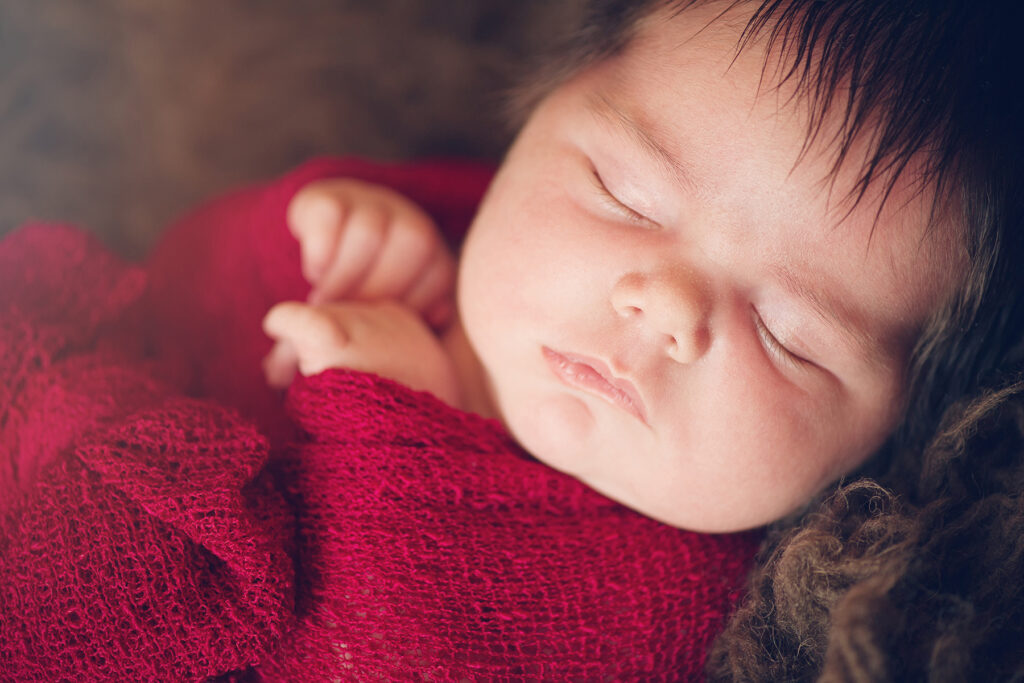 5. Red and green wraps and blankets
You can't go wrong with red and green wraps and blankets for newborn Christmas shoots. Wraps and blankets are perfect for snuggling little ones or creating textured backgrounds. There are lots of great options available for both thicker blankets and thinner gauze/cheesecloth wraps. I'm linking just a few of my favorite picks from Etsy below. I encourage you to search red newborn wrap and green newborn wrap for more choices.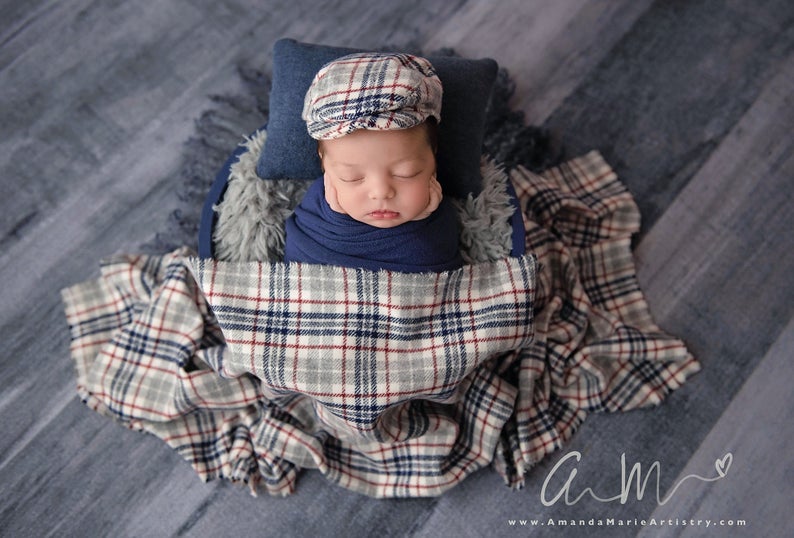 6. Plaid swaddles and blankets
Plaid is a fitting choice for any holiday photo shoot that will never go out of style. I'm crazy about LovelyBabyPhotoProp's plaid newborn layer and fabric cap set (pictured). I also love mamasluckyelephant's red and black plaid swaddle.
7. Reindeer hat/outfit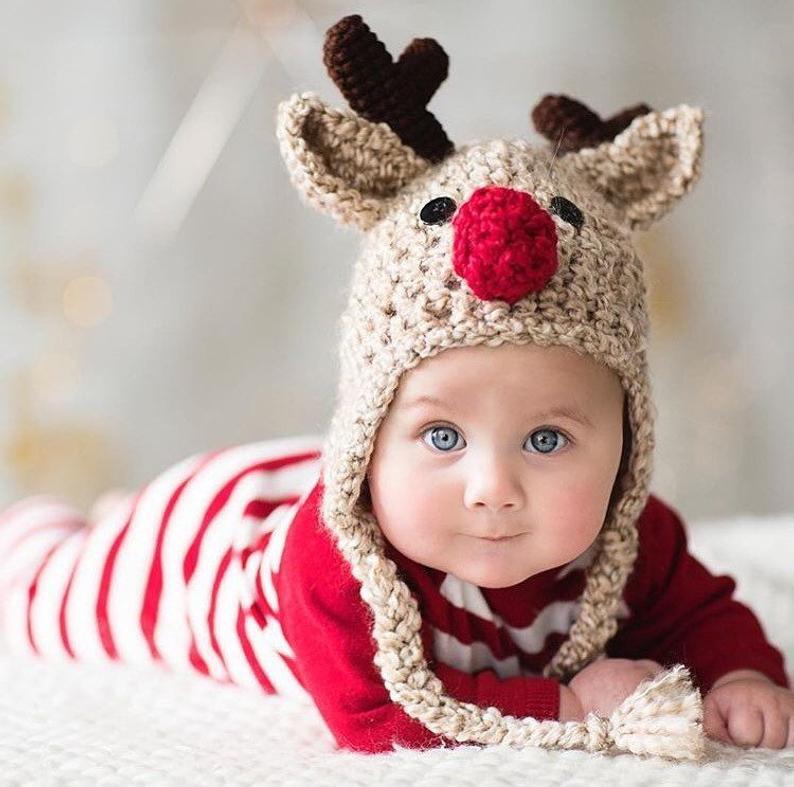 A reindeer hat or full outfit for a newborn holiday shoot is a classic choice. I love the newborn crochet reindeer hats from JojosBoutique (pictured) and BriarRoseCraftyThing. I also love the detail on the reindeer hat from teddyshatsworld.
If you're looking for a full reindeer newborn outfit, my top pick is 3JoyfulHeartsDesign's white tail deer hat and diaper cover. I love the diaper cover to complete this outfit and love the white detail on both the hat and diaper cover.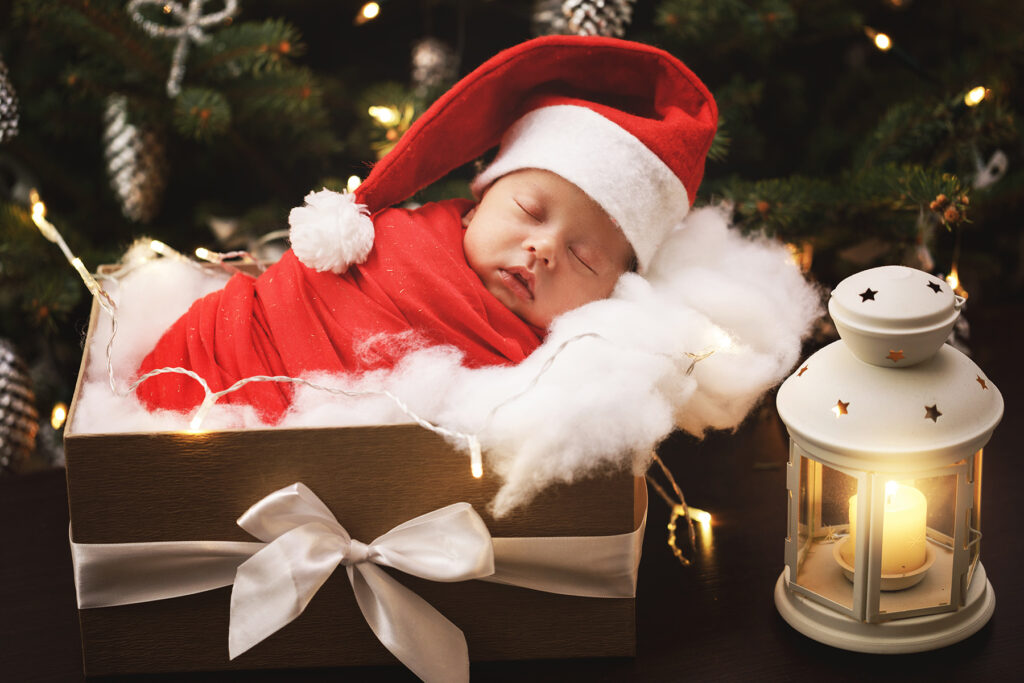 8. Santa hat/outfit
A Santa hat is adds a timeless touch to any holiday shoot, including a newborn holiday shoot. I love using a Santa hat for a prop because it instantly turns any shoot into a Christmas shoot, even with the backdrop and outfit aren't necessarily Christmas-themed. My top pick for a newborn Santa hat on Etsy is AllBabyBoutique's acrylic knit Santa hat, which is available from newborn through adult sizes.
You can also go for a full Santa outfit. My top picks on Etsy are bluestonesky's mohair and acrylic newborn Santa outfit and KnitAndCrochetLAND's acrylic newborn Santa outfit. I love the burgundy shade on bluestonesky's design, and I love the button detail and chunkier knit on KnitAndCrochetLAND's design.
9. Knit striped outfit
I'm a sucker for stripes. Red and white stripes are just perfect for the Christmas season. I love GoodnightBabyByNook's red and white striped romper and hat set. It's knit with alpaca yarn, which is extremely soft and very durable.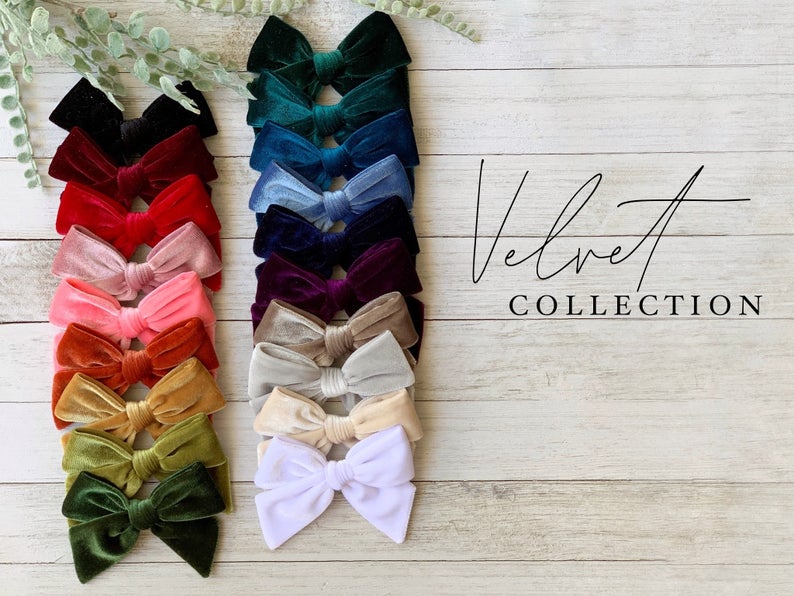 10. Holiday bows
MadeByMaeBowtique's winter velvet holiday bows are my top pick for newborn holiday bows. Velvet is so soft and adds such a nice texture to a photo composition. These bows are available with your choice of clip or headband (with multiple headband color choices), which is ideal for newborns. I love that the bows are solid colors, as many bold Christmas patterns will distract from sweet baby faces.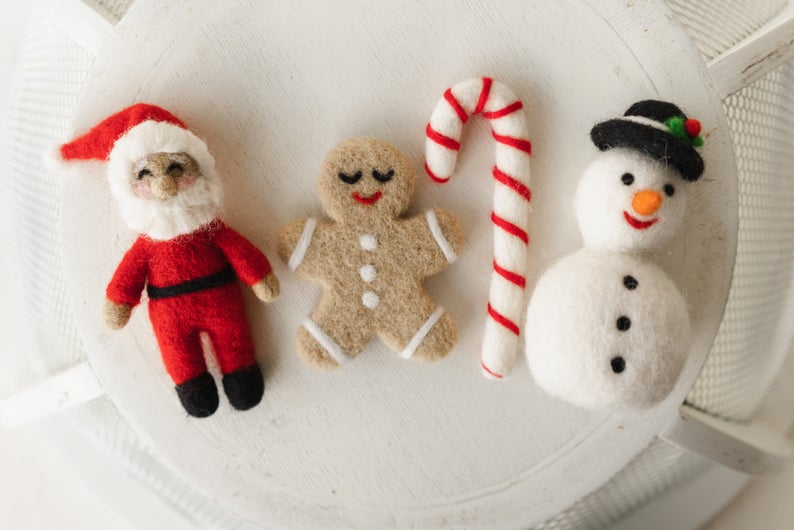 11. Newborn-sized Christmas toys
I'm so crazy about this set of felted Christmas newborn-sized toys from Propsly on Etsy. The listing also includes knitted fir trees in three different colors. You'll be hard-pressed to find higher-quality toys with such nice detail that are sized perfectly for newborns. Adding one or two soft Christmas toys to your prop collection will be a huge hit with clients for the upcoming holiday season.
12. Sleigh
A sleigh is one of the priciest newborn holiday photography props on this list, especially considering you'll only be using it during the Christmas season. If it's not in the budget this year, that's okay. But if you're ready to make the investment, I think it's worth it. You'll be able to use a high-quality sled prop year after year with all of your adorable newborns for their Christmas shoots. I'm linking six different sleighs here because there are so many fun props available. You'll be able to find a style that fits your photography aesthetic perfectly.
[Disclaimer: This post includes a few affiliate links. Thanks for your support!]
Are you a newborn photographer? Would you like your work featured on Best Newborn Photography Props?
I'm always looking for new photographers to showcase in my articles and shopping resources. Full credit with links is always given!
Please contact me if you're interested!
Pin this post for holiday newborn photography props resource later!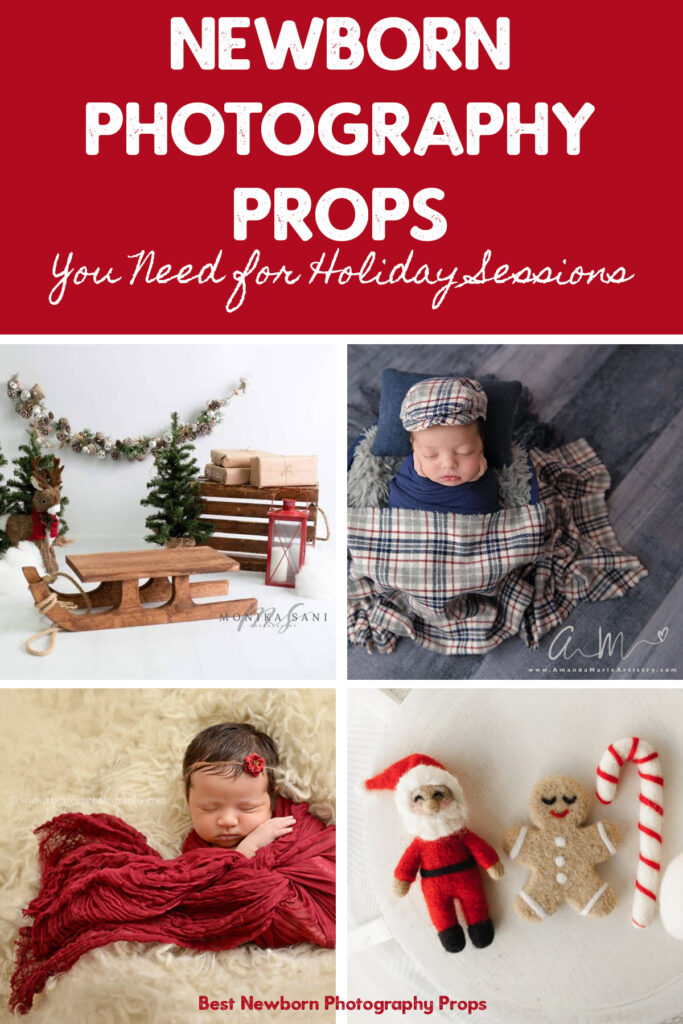 Recommended reading: