Learning how to choose fabric for newborn photography props is key for keeping newborns comfortable and investing in props that will hold up well through dozens of shoots.
I share general guidelines for selecting newborn photography prop fabrics and then outline the most popular newborn photography props fabrics. You'll have all of the information that you need to make well-informed prop purchases for your photography business.
General guidelines for choosing fabrics
Comfort
Comfort should be at the top of your mind as you choose fabric for newborn photography props. Newborns are delicate with soft new skin. You never want to use fabrics that feel rough or scratchy or that will pose any risks to their safety, such as potential for snagging.
Safety
Safety should always be an utmost consideration when choosing fabrics for newborn photography. Most commercial and handmade newborn photography props are well-made and don't pose safety concerns. However, just because an item has the label "newborn photography prop" doesn't mean that it's automatically safe for newborn babies. It's always best practice to consider this component of newborn photography before purchasing props.
Fabric items don't come with the potential risks that some props do, particularly vintage items, such as sharp edges and rust damage. The biggest thing to consider with fabrics is whether or not they'll fray and if there's potential for babies to snag their fingers or toes and get tangled. If you're worried that fabrics will fray, hem the edges. To avoid potential snagging and tangling, choose items with tight knits and weaves that don't allow room for little fingers and toes.
Wrinkle level
Even if you really love ironing, most likely you don't want to put tons of time into ironing newborn photography props in between every single session. Choosing wrinkle-free fabrics will significantly reduce the time you spend maintaining and preparing your props in between sessions.
Durability
Given the current conditions in the world, it's imperative to wash all newborn photography props after every session to ensure optimal sanitary conditions for your clients. As such, durability is more important than ever. You want to select fabrics that will hold up well under weekly, if not daily, washings month after month.
I highly recommend investing in a set of mesh laundry bags to wash delicate fabrics and props (i.e., lace, stuffed animals) safely. Make sure to follow the washing and drying instructions with your props. With a few exceptions, most fabric items will hold up just fine in mesh laundry bags on a cold water delicate or permanent press cycle. Unless a prop tag specifically states that it's okay for tumble dry, I recommend air drying.
Price
There are a select number of high-end fabrics, such as cashmere and alpaca, that feel amazing and make wonderful newborn props. They are also pricier, especially because items made from these choice fabrics are almost always handmade. Buying a handful of high-end props can be a great investment for your photography business. It's important to make these purchases with care.
The most popular newborn photography props fabrics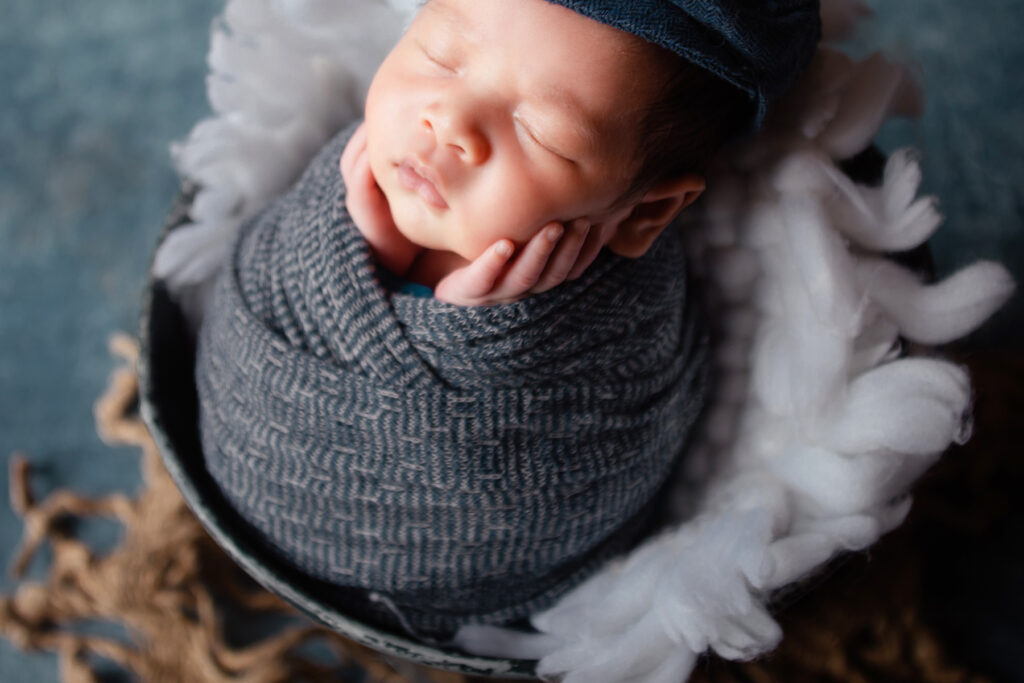 Lightweight cotton
Lightweight cotton is one of the most popular fabrics worldwide, for newborn photography props or otherwise. It's affordable, durable, and comfortable. Cotton is also a popular option for newborn photography props because it's so versatile. It's a great choice for blankets, wraps, outfits, hats, bows, rugs, bedding, and much more. Unless it's an extremely cheap cotton, you'll be hard-pressed to go too wrong with lightweight cotton.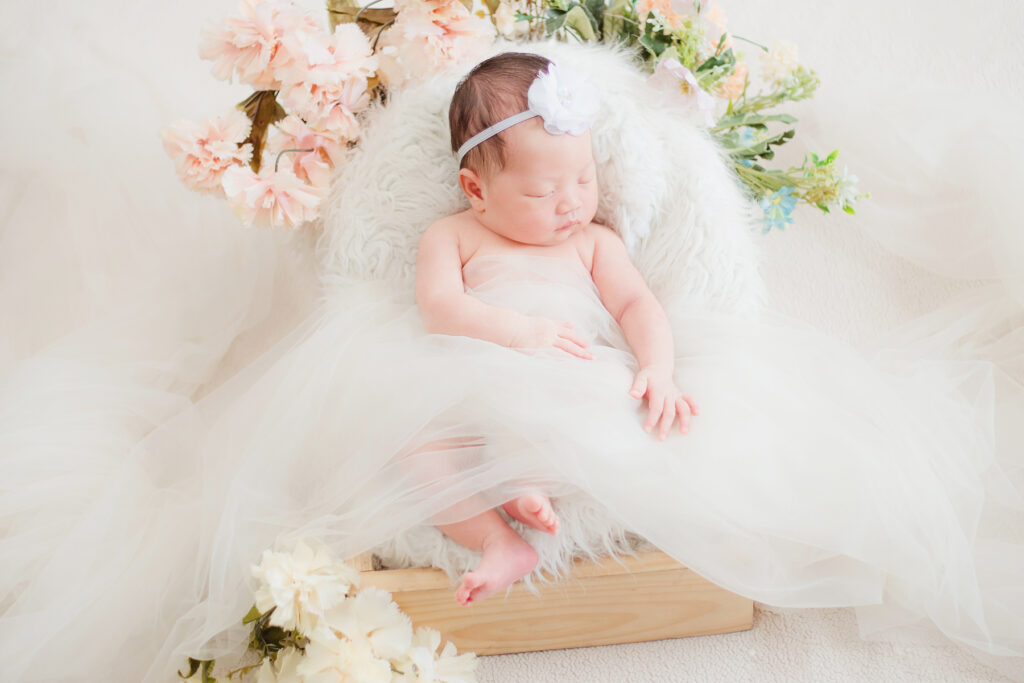 Mesh and gauze fabrics
Mesh and gauze fabrics are ideal for newborn photography because they're softy and stretchy with a level of transparency. You'll still see cute baby fingers or toes under a mesh wrap, which makes for a sweet aesthetic. You can also layer mesh and gauze fabrics with thicker fabrics as part of a background or backdrop to create more texture and visual interest.
Many newborn photography props of the mesh and gauze variety are labeled "cheesecloth." While they may not be authentic cheesecloth, they do mimic the feel of it. If you're interested in these fabrics, I highly recommend using the search term "cheesecloth," especially on Etsy.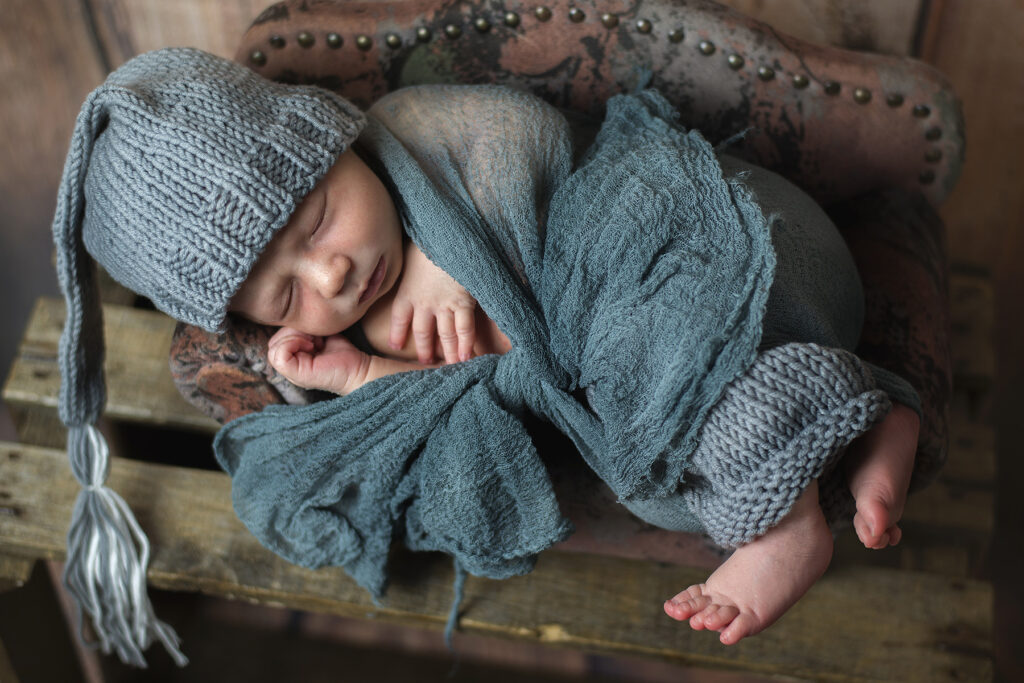 Wool
Similar to cotton, wool is another classic fabric choice that's remained popular for generations and with good reason. Wool is very warm and durable. While not all wool items are soft, wool can be extremely soft and comfortable. Wool is a great choice for blankets, knit hats, and select outfits. You'll also find a number of beautiful wool newborn photography props, particularly felted wool hearts.
The Etsy shop Propsly has an amazing selection of wool newborn photography props, including merino wool, which is one of the softest wools. The Propsly team offers wool rugs, blankets, hats, wraps, felt hearts, and more. They have a number of combination sets, including holiday sets, which is a great way to pick up coordinating items for less money. I love their range of smooth and chunky finishes as well as selection of colors.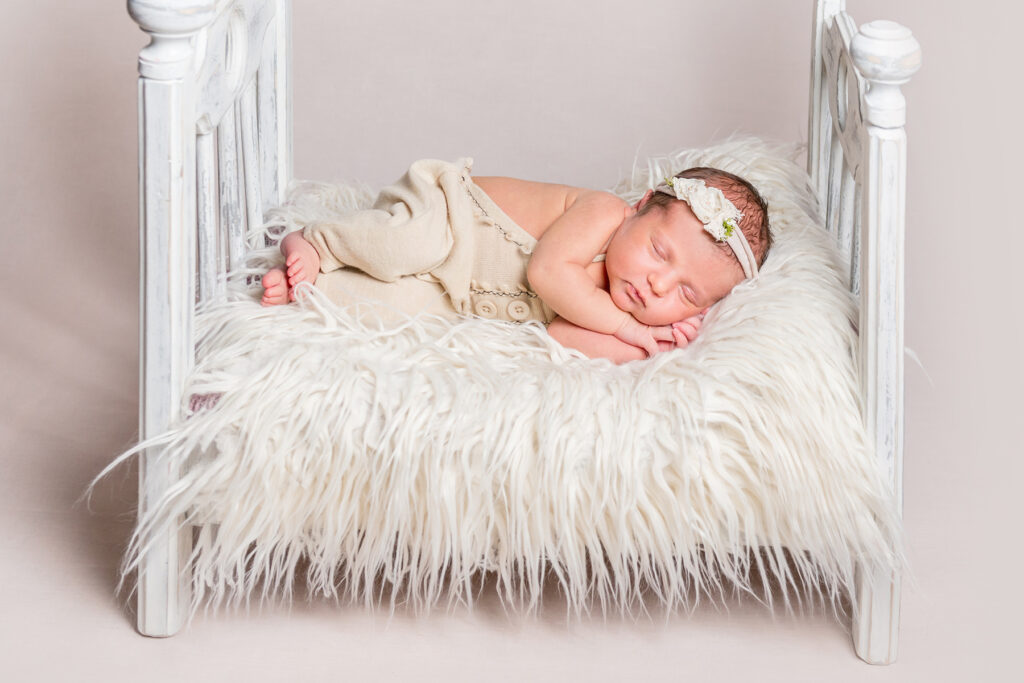 Faux fur
Many newborn photographers love the aesthetic of faux fur. It adds a fun texture to photos and is great for working with newborns because it's so soft. Obviously, faux fur is much more affordable and is the eco-conscious choice over genuine fur. Many faux fur props are large and designed to be used for multiple purposes, such as background layers, blankets, and wraps.
A number of faux fur newborn photography props are labeled "flokati faux fur," which seems to refer simply to the texture and aesthetic of certain faux furs. It's a good search term to use to find additional faux fur props offerings.
The one thing to watch out for when selecting faux fur props is shedding. If you've ever owned a cheap shaggy rug, you know that these type of items tend to shed a lot. Shedding is messy and potentially harmful to newborns who may grab stray fur and put it in their mouths. Don't cheap out on faux fur newborn props. It's worth spending a little more to get high-quality items that will be safe for your clients.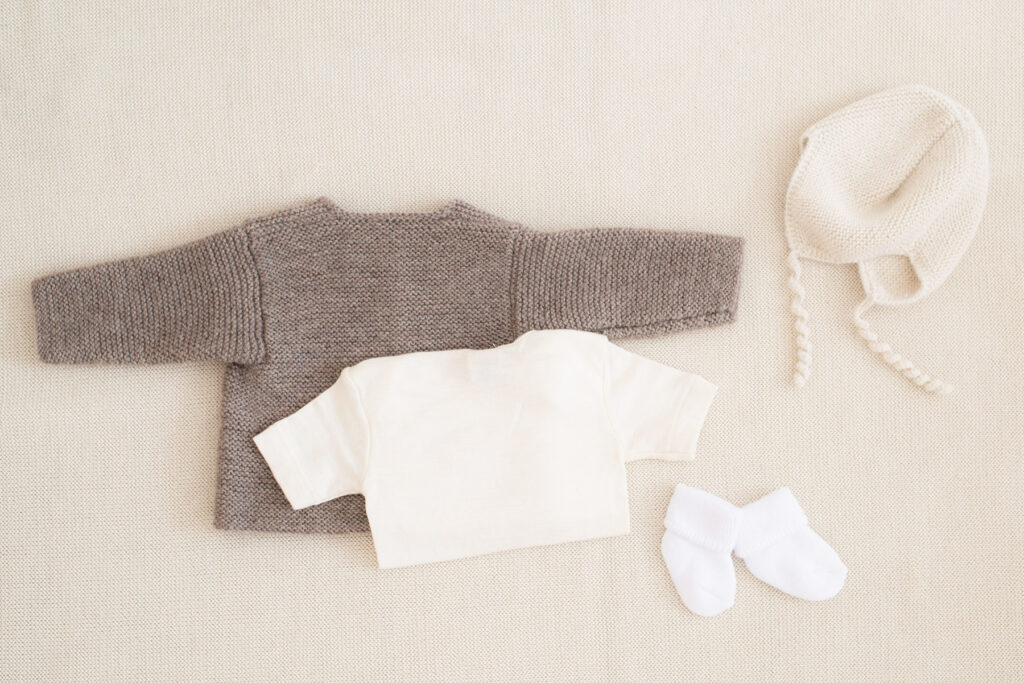 Cashmere
Cashmere newborn photography props may not be in the budget when you're just starting a photography business. But they're well-worth aspiring to, as there's no doubt that cashmere is a fantastic fabric option for props. Etsy has a great selection of cashmere newborn photography props, including outfits, hats, wraps, and backdrops. Highly-rated Etsy shops with extensive cashmere prop offerings include ItsyBitsyBlooms and OneSheepTwoSheepNBPF.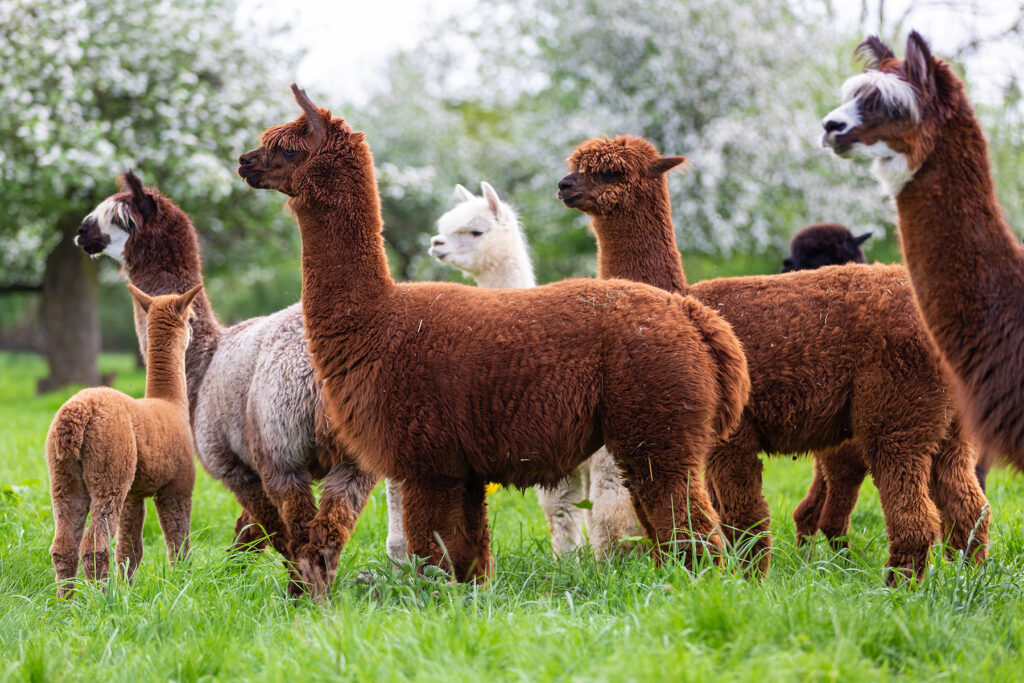 Alpaca
While not nearly as widely available as cashmere, alpaca fur is another wonderful high-end fabric option for newborn photography props. It's just as durable and soft and offers a unique texture. Alpacas have 22 natural color variations with the spectrum including white, fawn, brown, gray, and black. Alpaca fur dyes beautifully and comes in a wide selection of dyed shades. [Source]
Etsy has a nice selection of alpaca newborn photography props, including outfits, hats/bonnets, wraps, and stuffed animals.
On occasion, you may come across newborn photography prop listings that use other fabrics. It's perfectly fine to choose additional fabrics for your props as long as they fit the general guidelines and the aesthetic for your newborn shoots. If you're ever in doubt about the fabric for any newborn prop, don't hesitate to contact the seller.
[Disclaimer: This post includes a few affiliate links. Thanks for your support!]
Pin this post for easy access to the how to choose fabric for newborn photography props resource later!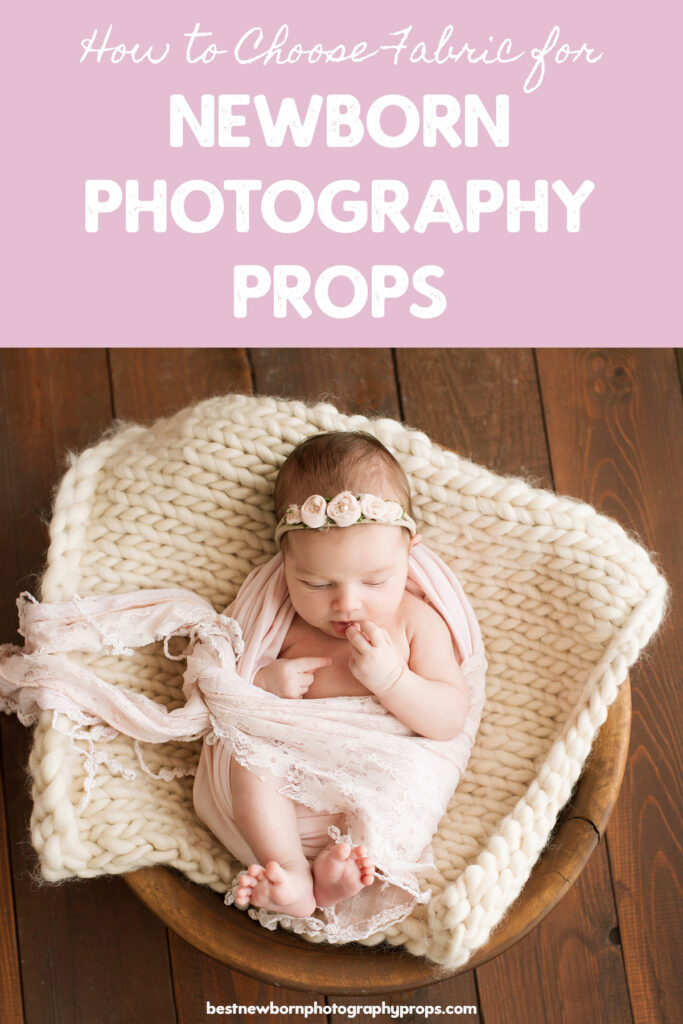 Are you a newborn photographer? Would you like your work featured on Best Newborn Photography Props?
I'm always looking for new photographers to showcase in my articles and shopping resources. Full credit with links is always given!
Please contact me if you're interested!
Recommended posts: