Choosing newborn photography props is a key element of newborn photography. Having a nice selection of high-quality, versatile props that you and your clients love ensures that your sessions go smoothly and that you're able to create beautiful images that everyone loves.
It's easy to get overwhelmed choosing props and either not buy anything at all or buy everything you find. It's also easy to blow your budget quickly on props that may or may not be a strong asset to your newborn photography. The following tips will help you make smart props purchases that will take your photography business to the next level.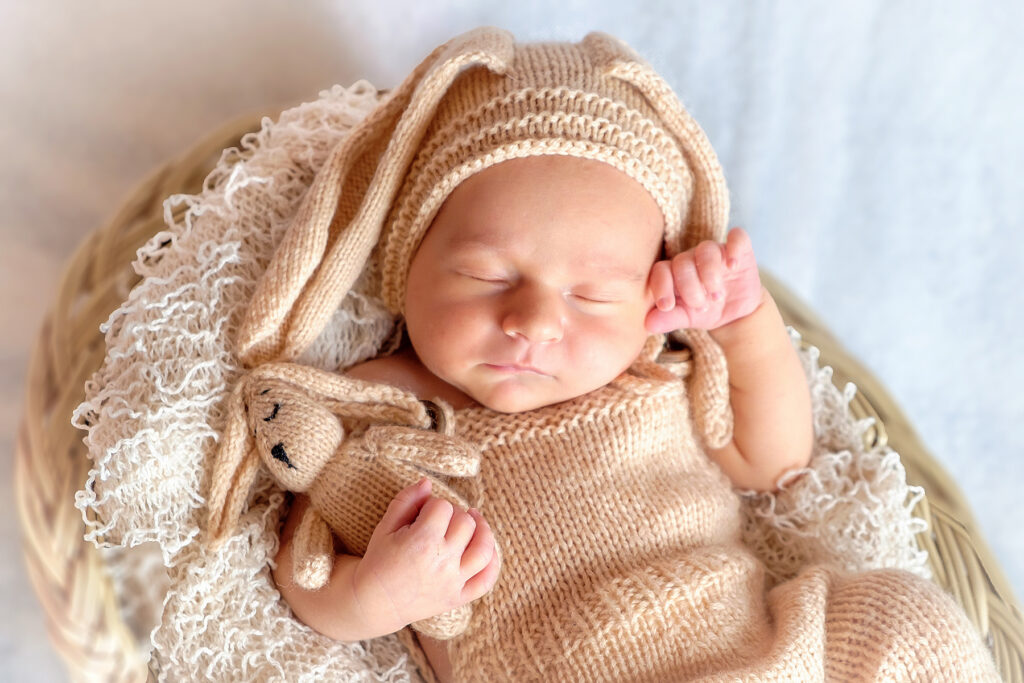 Versatility
Selecting props that appeal to a wide range of clients offers the most bang for your buck. As you photograph newborns and study newborn photos from fellow photographers you admire, you'll quickly identify props that work well time and time again. For example, you can style a neutral-colored basket with numerous blankets, outfits, and accessories. I guarantee it will look great every single time. In comparison, if you choose a brightly-colored basket with a vivid pattern, you'll have a harder time finding items that coordinate with it. You'll also significantly limit its use, as not all parents want bright colors for the newborn shoots. Give yourself the flexibility to pair an occasional vivid outfit or accessory with your base neutral pieces.
What about gender-specific newborn photography props?
Obviously, you'll always get more use out of photo props that you can use with a boy or a girl. However, there are numerous instances where it will make sense to choose gender-specific props. Generally, it makes sense to choose gender-neutral big-ticket items. For example, purchasing a pink wooden newborn bed will limit your options. Many parents won't want pink, even for their little girls. Then fill out your newborn props collection with smaller gender-specific pieces, such as outfits, posing fabrics, and accessories.
Uniqueness
With that being said, you'll be able to set yourself apart in your very competitive field with a few carefully-chosen newborn photo props. Having unique items that not every single photographer owns will make you more desirable and help define your style.
Think about what props are most important to you and what unique items you'll enjoy working with over and over again. For example, if you have a large studio space that allows for a hanging drop, it would be a great unique piece. I'm also crazy about this rustic miniature hammock/deck chair and this wood raft with sail. Both of these pieces are extremely versatile but not something that a lot of newborn photographers use.
Keep your eyes open for unique pieces you really love that will be worth the investment and set you apart from the crowd. Additionally, for the right style, vintage pieces, such as antique luggage, adds a great touch.
Safety
Above all else, when choosing newborn photography props, safety should be a primary consideration. All newborn photography props should be soft and comfortable without any sharp edges. It's especially important to consider the safety factor when purchasing vintage items. For example, a worn metal bucket may look amazing. But it won't be safe for your clients if it has rust spots or rough edges.
The other most important element to consider when it comes to safety is how your newborns will be situated with the props. A newborn's head is a significant percentage of his body weight. When you position a newborn in a basket or other lightweight prop, her head may tip the basket over completely if she leans forward or sideways suddenly. When you're using lightweight pieces, weigh them down with hand weights, disc weights, or other appropriate items to keep babies safe at all times.
Color palettes and patterns
In general, muted color palettes and subtle patterns will be the most versatile for a range of skin tones. They will also keep the focus of your images on the adorable babies. Muted color palettes doesn't mean that everything has to be white or brown. Offering a range of neutrals, including grays and blues, as well as soft pastels, will give you something for everyone and still provide ample flexibility to bring in a bright pop of color with a hat, headband, or stuffed animal. Subtle patterns, such as crocheted herringbone, will add texture without distracting from the subjects.
Having a few vivid patterns in your newborn photography collection will complement the more muted pieces perfectly. Look for classic patterns, such as red and black buffalo check, which never goes out of style and looks great paired with neutrals. I also love the occasional bright color, bold pattern, or just fun accessory for seasonal and holiday shoots, such as pumpkin leggings and hat for fall or a reindeer hat for the holidays.
Size
One of the biggest complaints that I come across while reading reviews for newborn photography props is that they're sized too large for newborns. Just because an item is labeled as "newborn" or is available in a newborn photography props shop on Amazon or Etsy doesn't mean that it's sized perfectly for newborns. Most babies born between 37 and 40 weeks weigh between 5 pounds, 8 ounces (2,500 grams) and 8 pounds, 13 ounces (4,000 grams) [source] and measure 18 to 22 inches in length [source].
Reading the reviews and the size specifications will help you make good purchasing decisions for your newborn photography props collection. If you're ever in doubt about an item, contact the seller before hitting the buy button. When you shop in stores and at estate sales and flea markets, bring a tape measure with you. With years of experience photographing newborns, you probably have a good idea what will and won't work just by eyeballing it. However, it never hurts to take a few measurements.
For certain types of photo shoots, when used with care, oversized props can be funny. While there may be exceptions for newborn photography, generally, oversized doesn't work well. Your adorable newborns simply get lost behind items that are just too big.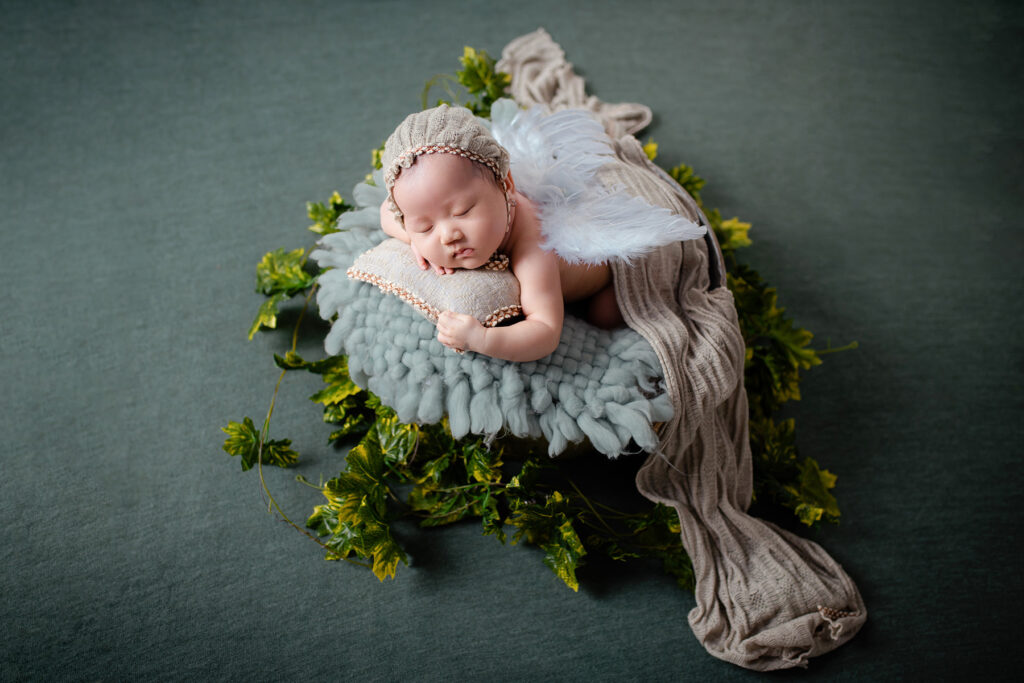 Using your own style as a guide
If you're struggling to start building a newborn props collection or ever in doubt about whether or not a piece will be a good fit when choosing newborn photography props, think about your own style. If you would select the color palette for your living room furniture or would wear the blue shade of the outfit you're debating, most likely it will be a good fit for your props inventory.
When you don't have a defined style or can't find obvious inspiration from your home or office, create a mood board. Start saving pictures from magazines or catalogs or collecting images on Pinterest. Pay attention to colors, textures, and patterns as well as other style elements (i.e., dark lighting) that you gravitate toward over and over again.
Budget
There is no end to the amount of money you can spend on newborn photo props. As a new photographer or someone who is just branching out into photographing newborns (i.e., as opposed to seniors or families), start small. You don't need to have a large collection of props to create stunning images. Start with a few backdrops, posing fabrics, stuffed animals, and furniture items. From there, you'll be able to build your collection over time.
Set a limit to how much you'll spend on newborn photography props each month, and stick to it. Many photographers find it helpful to build their collection as they hit milestones with their business. For example, you might decide to purchase a few new props when you've booked X number of clients for the spring or have earned X number of dollars from holiday sessions.
Catering to local interests
If you're a sucker for specialty newborn props, local interest pieces will always be a hit. For example, MySweetBabyEtsy shop on Etsy offers a great selection of sports team newborn hats, which are adorable and work for lots of different shoot set-ups with both boys and girls. Sports will be a major focus for many newborn photographers, but don't feel limited to this option. General city-themed backdrops, blankets, and outfits all work well.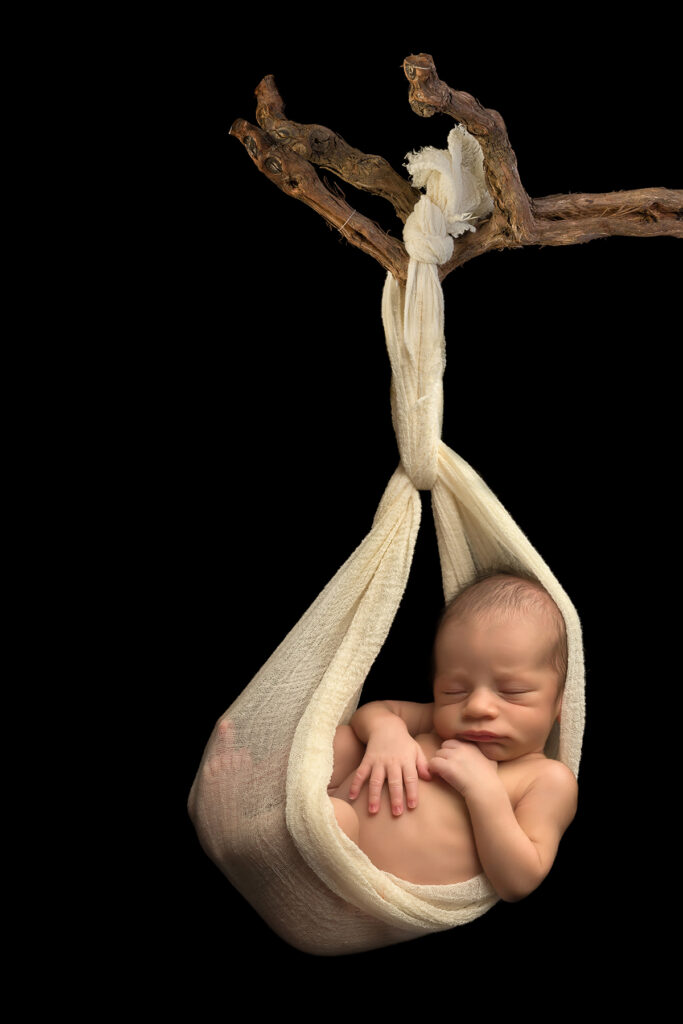 Focusing on one or two signature pieces
Having just a couple of really unique furniture items or other newborn props in your collection will set you apart from your competition. It will also make your work instantly recognizable on social media. While you don't want to overplay favorite pieces, you do want people to see your images in their social media feeds and know that it's you right away. The items that I included in my uniqueness section are all great options. Don't feel pressure to purchase a high-end signature item right away. Keep your eyes open, and trust that when you see the right item, you'll know it.
A few final recommendations for choosing newborn photography props:
Be careful of fads. Every year, there are new fads for every type of photography. Newborn photography is no exception. There is nothing wrong with participating in fads. However, you want to make sure that they fit with your style and that crazy prop purchases won't blow your entire budget.
Have clients choose from the props you offer. Offering clients a range of props for their newborns' sessions is part of the job of a professional newborn photographer. However, you aren't expected to own every single prop ever invented. If clients would like specific props included in their children's photos that you don't already own, they must provide these props.
[Disclaimer: This post includes a few affiliate links. Thanks for your support!]
Pin this post for easy access to the guide for choosing newborn photography props later!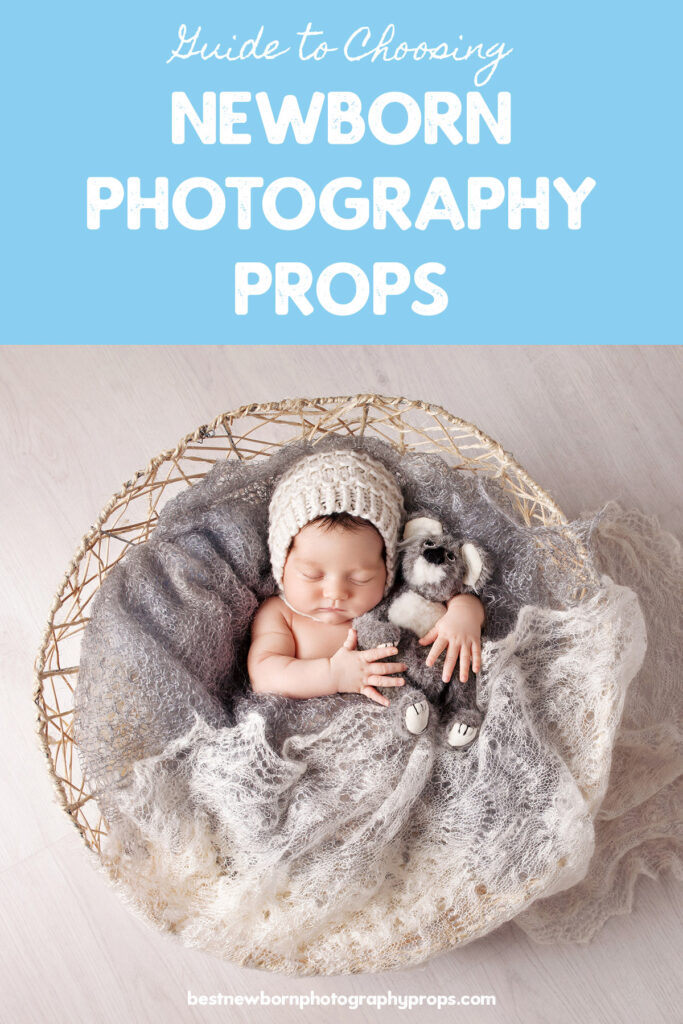 Are you a newborn photographer? Would you like your work featured on Best Newborn Photography Props?
I'm always looking for new photographers to showcase in my articles and shopping resources. Full credit with links is always given!
Please contact me if you're interested!
Recommended posts: